We currently have openings for CNA, LPN, RN, Therapeutic Recreation, Culinary Aide, Culinary Cook, Housekeeping and more.
About Us
We believe in hiring and investing in dedicated, passionate people who make this community a great place to live and work.
Within the walls of Bethany, we are dedicated to providing a nurturing environment where residents find not only medical support but also a genuine sense of belonging and being at home. We believe that every interaction is an opportunity to make a positive impact.
If you're a dedicated and empathetic individual seeking a career that blends clinical expertise with heartfelt human connection, then join us in shaping the future of long-term care. 
I've never worked anywhere where the teamwork and flexibility are so amazing. As a CNA there was always a co-worker willing to step in and cover for me when needed. Now, as a manager, I'm happy to do the same for my team!
-Emily M., RN, Short-Term Rehab Nurse Manager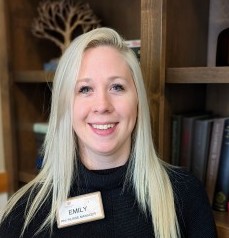 Career Opportunities
Join our dedicated team.
Our care team serves many types of residents who vary in their needs – from basic care to very complex cases. In this environment, you will be challenged to utilize your nursing and critical thinking skills, as well as empathy, kindness, and compassion.
Beyond the realm of nursing, we have a symphony of departments that work in harmony to create a nurturing environment that goes far beyond medical care. From vibrant recreational activities and culinary experts, maintenance and housekeeping staff, to our administrative teams – together, we form a community dedicated to enriching the lives of those we serve. 
we invest in you.
Employee Perks & Benefits
Bethany on the Lake offers a range of enticing employee perks, including comprehensive benefits packages, professional development opportunities, and a supportive work environment that fosters growth and camaraderie.
Based in Alexandria, MN
Become part of the legacy that has served the senior population of Alexandria and its surrounding areas for over a century.
As an established provider of senior care since 1917, our reputation for quality, compassionate care, and building relationships with residents, families and friends is woven into the fibers of what we do. This is reflected in the exceptional ratings from the Centers for Medicare and Medicaid.
Bethany on the Lake has been a crucial part in developing my career as a nurse.
Not only have the educational benefits been tremendous but working with such amazing people and helping the residents provides me with career fulfillment. I am thankful for choosing Bethany on the Lake 14 years ago and would do it all over again!
-Jessy D., RN, BSN – ADON/MDS Coordinator